GeoCities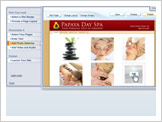 GeoCities allowed anyone to build a custom web page or yahoo web site for free and reserved a small amount of server storage to host images and documents. It was a great service while it laster and offered a quick way for people to host their pictures online.
GeoCities stopped accepting new registrations in 2009 and offered users to transition their accounts to the company's Yahoo Web Hosting service.
GeoCities was originally called the Beverly Hills Internet or GeoPages. GeoCities is a cornerstone of today's Internet entrepreneurs. Numerous users say they got started on the Web using GeoCities' Site Builder.
Why Choose Yahoo Web Hosting?
Unlimited Bandwidth
Unlimited Storage
Free Yahoo Domain Name
24-Hour Toll-Free Customer Service
Yahoo Web Hosting offers unique discounts to potential customers
Yahoo is a proven leader in e-commerce, hosting 1 in 8 online stores
Yahoo Web Hosting offers coupons
User Friendly Control Panel
Yahoo Hosting allows anyone to build a website from scratch. All Yahoo web hosting plans includes free setup and a free domain.